Beech Stave Press
is pleased to announce that it has taken over publication of
The Kenneth E. Naylor Memorial Lecture Series in South Slavic Linguistics
(Brian D. Joseph, series editor)
beginning with No. 4 in the series,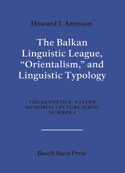 The Balkan Linguistic League, "Orientalism," and Linguistic Typology
by Howard I. Aronson
Pp. xii + 37 ISBN 0-9747927-2-1
Paperback, $9.95 (web price), $14.00 (list price)
---
In this lucid work, renowned University of Chicago linguist Howard Aronson contests the usual view of the Balkan linguistic league as typologically isolated and geographically sharply defined, and instead argues that it is better understood in terms of structural features distributed in a series of overlapping areas, each of which extends also outside of the traditionally defined linguistic area of the Balkans.
(This will take you to our fulfillment service at Aero Corporation.)
---
Scheduled for publication in 2011 are:
No. 6 Zuzanna Topolinska, The Anthropocentric Case Theory: How Is Man Realized in the Discourse
No. 7 Ilse Lehiste, The Structure of the Deseterac — TheMetre of Serbian Epic Poetry